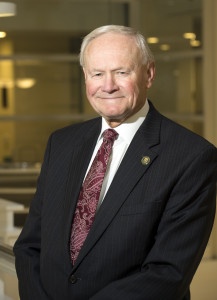 Howard Safir passed away on September 11, 2023, in Annapolis, Maryland.
Born February 24, 1942, to George Safir and Rose (Weiner) Safir in the Bronx, NY, Howard was a devoted husband to Carol for 57 years, father to Jennifer and Adam, and grandparent to Audrey, Hudson, Cara and Alexander. He is survived by his sister Elaine Siegel, brother Sheldon Safir, and an extended family of relatives and friends who mourn his loss and celebrate his life.
Mr. Safir is publicly known for his service as Commissioner of the New York Police Department (NYPD) and Commissioner of the New York Fire Department (FDNY). As Fire Commissioner from 1994-1996 Safir visited every firehouse and led efforts to re-organize and re-equip the department, including with life-saving bunker gear. As Police Commissioner from 1996-2000, Safir led an unprecedented reduction in crime while also reducing citizen complaints and establishing the department's Courtesy, Professionalism & Respect program, those words still painted on the side of every police car in New York City.
Mr. Safir's 26 years of federal law enforcement service began in 1965 at the predecessor agencies to the Drug Enforcement Administration (DEA), where he thrived as an undercover agent and lead the Western Region in Los Angeles at DEA's founding when he was 30 years old. After serving in various DEA leadership roles in Washington, Safir was assigned to the United States Marshals Service where he led the revitalization of the Witness Security Program, and as Director of Operations, spearheaded pioneering operations to bring international fugitives to justice including cartel leaders, spies, terrorists, arms dealers and war criminals.
Mr. Safir's twenty-year private sector career included the founding of security and risk-management companies and service on the boards of Verint, Cognyte, LexisNexis Special Services and Citius Pharmaceuticals. A regular commentator on Fox News and columnist, Mr. Safir consistently advocated for the rights of people to live free of crime and fear of crime.
A skilled sailor, golfer and photographer, Mr. Safir's greatest talent was inspiring and counseling others to be successful and purposeful in life. He will be missed for his humor, his care and his love.